Deluxe Miner's Package
Full-Service, Staff-Guided Gem Mining Expedition at our store
This package is a full-service, staff-guided mining expedition. We take care of the details, so you can relax!

Package overview

This package is our full-service package, complete with a dedicated party host. You and your guests will have use of the sluice and the party room for a combined total of one and a half hours. With this package, in addition to the gem mining activity, we provide your party guests with a fun, interactive gem identification game.
You are welcome to bring outside cake/cupcakes but no other outside food or drink is allowed. We will provide you with paper products and a drink for each miner. You have the option of ordering pizza from us for your party-goers if you would like.
With this party package, your guests will receive a special birthday-party-sized bucket of mining rough, which has 50% more treasures in it than our Rockhound or Beachcomber bucket.
LOOKING FOR A GIFT?
We carry an incredible assortment of prehistoric gifts that would thrill your rockhound or aspiring paleontologist!
We offer a variety of treasures priced under $20.
Purchase your gift at our store oronline.
Share with grandparents, aunts and uncles, party guests!
Gift Certificates available in our store or you can purchase an eGift Card online!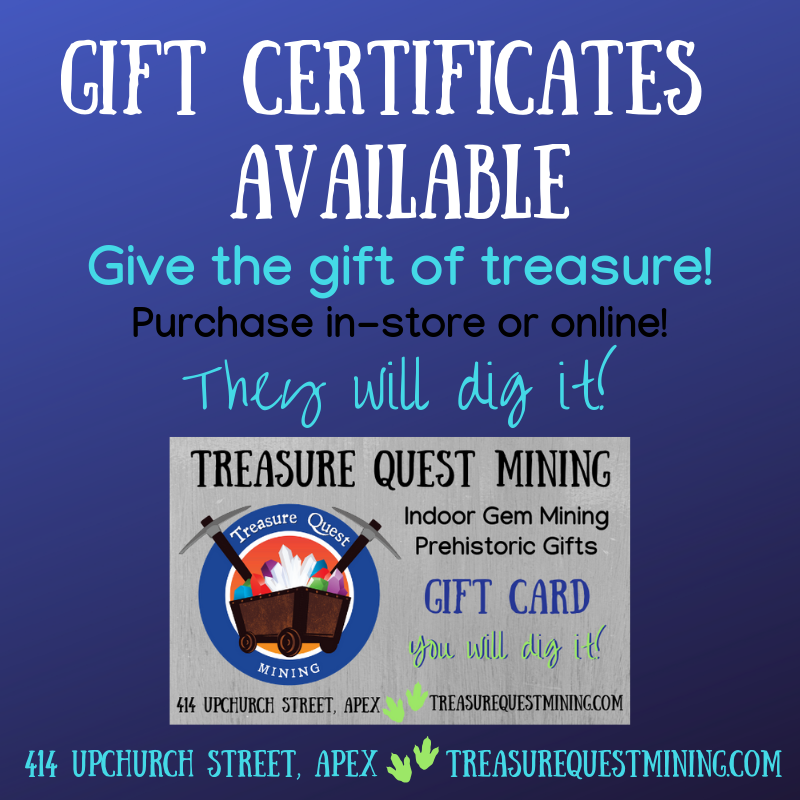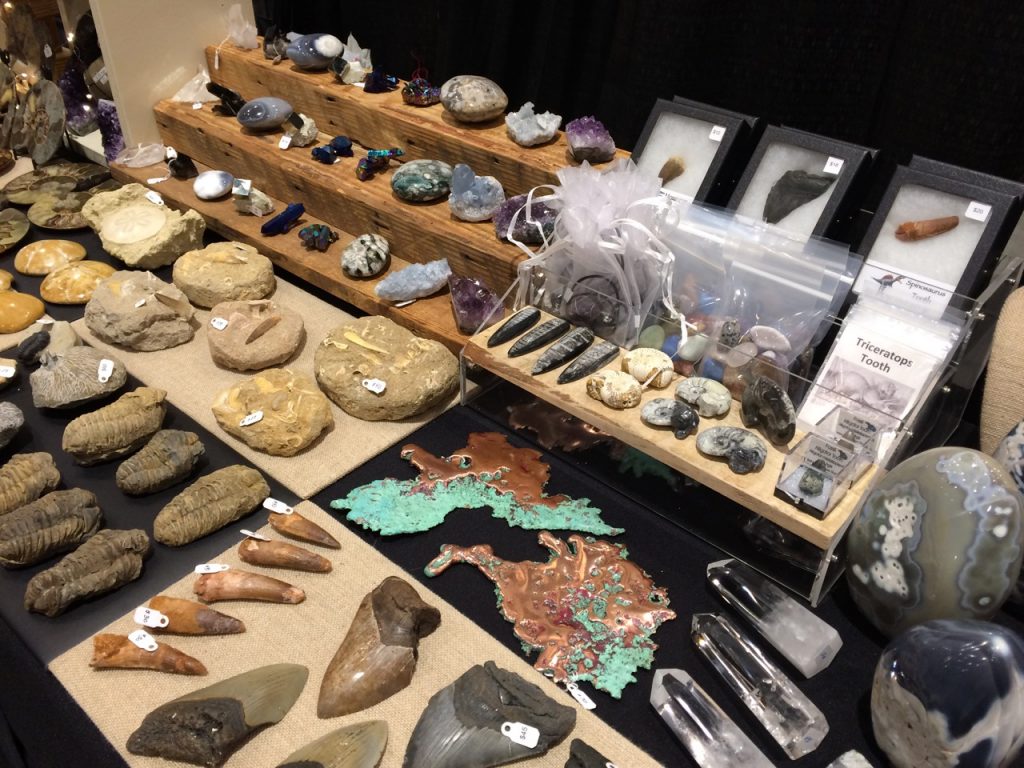 Pricing & Details

Base Price: $229 for the first 10 miners, we can host up to 20 miners! This is the package minimum. The birthday person is included in this count (birthday person + 9 guests).
Each additional miner: $12.50 each. Up to 20 miners total.
Add a geode: We have several sizes and prices to choose from, including mini-geodes for $.80 each when you purchase 10 or more.
Cake: You can order a 1/2 sheet cake through us for an additional $35. With your purchase, we supply you with candles. However, you are welcome to bring your own cake, please do plan to bring candles too!
Pizza: You can order one-topping 14″ Papa John's pizzas through us for an additional $16 per pizza. We recommend 1 pizza per 4-5 children (depending on age). Each pizza has 8 slices.
We supply you with paper products (plates, napkins, forks). We provide this to you even if you do not order food from us.
Included in the package is one drink per child. Bottled water or juice boxes. No carbonated or caffeinated beverages.

Additional drinks can be purchased for $1.00 each, or you can add a drink package for a flat $5 to include drinks for all of your guests. Most families add the $5 drink package so they can provide a drink to everyone without the worry of a $1/per bottle charge.

This package includes the use of the sluice and party room for a combined total of one and 1/2 hours. Children typically take 20-25 minutes to process the mining rough (each miner's pace is different).
20-miner maximum: We can accommodate 20 miners on the sluice. We have a small party room, so be prepared for things to be snug, but manageable, with 20 kiddos. Definitely standing-room-only for parents!
This package includes a dedicated party host. Let us take care of the details so you can relax and enjoy the party!
Mining Rough

You have the option to choose from two mining rough mixes. You can choose either a Rock or Beach bucket, but should only provide one bucket per child in order to keep the party on schedule. Our birthday party buckets have 50% more treasure in them than our Rockhound or Beachcomber buckets offered through the store. This size bucket is exclusive to our party guests.
Rock bucket – mining rough that includes gems, rocks, and minerals. View our Gem Identificationpage to explore the types of stones you may find.
Beach bucket – mining rough with seashells, fossilized sharks' teeth and other beach finds. Explore our Shell & Fossil Identificationpage to explore the types of shells and sharks teeth you may find.
Scheduling your Party
We schedule weekend parties on the even hour; 10:00, 12:00, 2:00 or 4:00 (the 4:00 slot is for Treasure Hunters packages only). We are able to offer weekday parties, both during the daytime or after our normal business hours. Please note that our party slots fill up quickly and we can book up to 6 months in advance – so you invited to plan early if you'd like! Contact us by phone or email to reserve your preferred date and time!
Other Notes
You are welcome to bring balloons for your party. Our ceilings are 12-14′ tall, so please be certain to have a long string or ensure that they are securely fastened to a balloon clip.
No confetti or piñatas, please. No sparkling candles.
No alcohol or smoking allowed.
A $50 deposit is required at the time of booking. It is non-refundable but is transferable if the party is canceled more than 72 hours prior to the start time. We will apply your deposit to another reservation within a 2-month window. Any party canceled with less than 72 hours' notice will forfeit the deposit.
Age Considerations: As our gem mining activities and geodes contain small and sometimes sharp pieces, these activities may not be appropriate for children age 3 and younger.
*Prices do not include sales tax. Sales tax will be applied.