Gem Mining
You will dig it!
Treasure Quest Mining offers a mobile gem mining experience at local fairs, festivals and events around the Triangle region in North Carolina. Visit our Show Schedule to find us near you.
How it works
Treasure Hunters purchase a bag of mining rough and wash the material in our sluice. The running water rinses away the sediment, revealing the treasures contained within the material. Treasure Hunters keep their finds, starting or adding to their collection.
Your Treasures – The Mining Rough
We offer three types of mining rough to choose from:
Rock Bag – each bag contains a dozen or more different types of stones in a rainbow of colors. You may find well-known semi-precious stones or unfamiliar, unique gems and minerals.
Beach Bag – our beach bags contain seashells from the Indo-Pacific region, fossilized sharks' teeth, and other beach finds. You'll find shells that are uniquely different than those found on US shores; a great way to add variety to your collection.
Megalodon Bag – this is a super-sized beach bag complete with an authentic Megalodon tooth and other fossils. Sure to please the shark enthusiast!
And once you get home, you can view our Treasure Identification pages to learn more about your treasures.
Quality Guaranteed
Our family hand assembles each bag of mining rough, ensuring that each Treasure Hunter finds a well-balanced, high-quality mixture of treasures. While this takes a great deal of time, as parents, we want each child (and adult alike!) to have a joy-filled experience. We are certain you and your family will truly enjoy your Treasure Quest!
Mine with us. You will dig it!
We invite you to join in on the fun! We are mobile and travel around visiting fairs, festivals and other events in North Carolina and Southern Virginia and may be near you soon. Check out our schedule to view our upcoming events.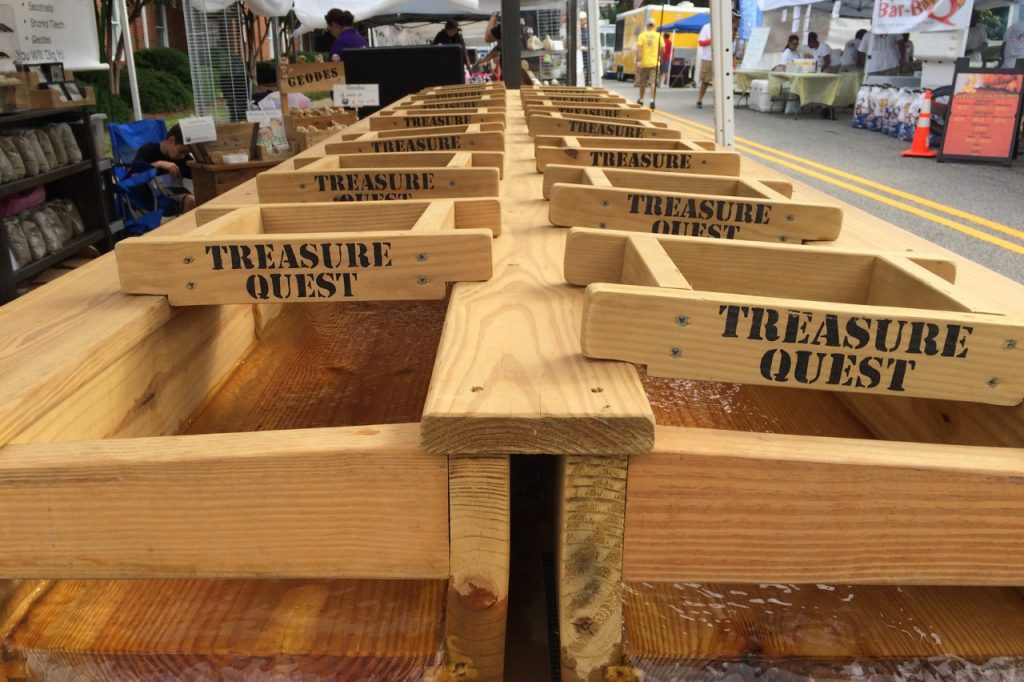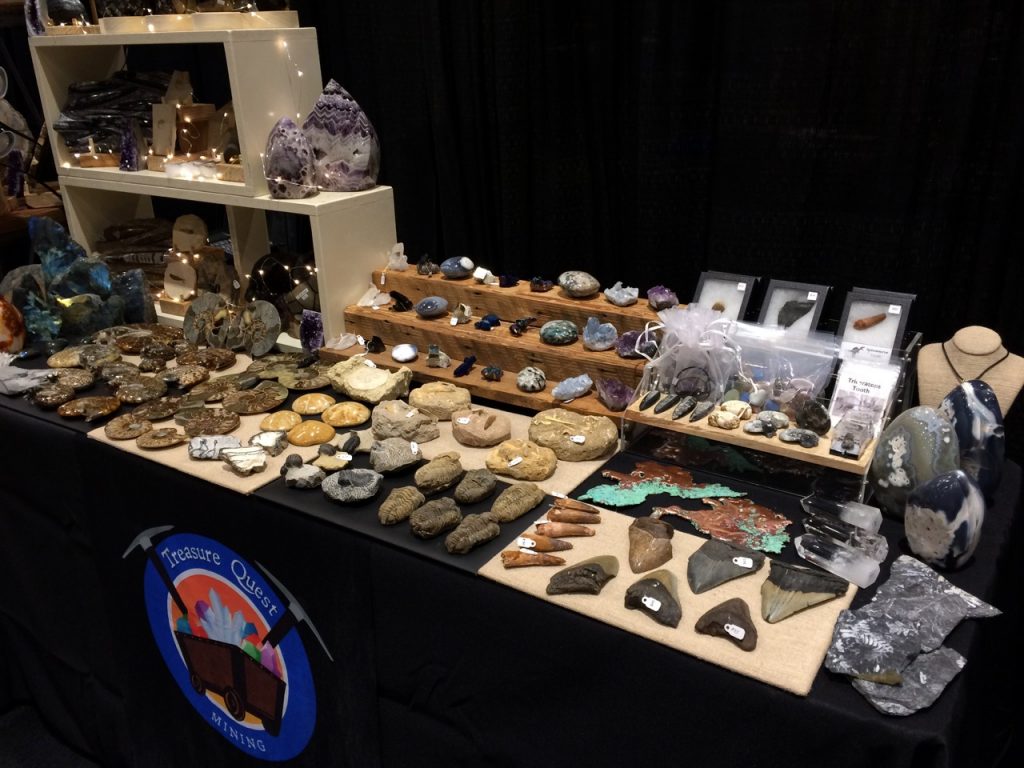 Shop for Treasures
Visit our On-Line Store or Local Pop-Up Shop
In addition to offering gem mining seasonally, we also operate a prehistoric gift shop. Available online all year long, you can visit our gift shop by exploring our sister website: YouWillDigIt.com.
We are purveyors of fine quality educational and entertaining toys, authentic fossil specimens and unique geologic treasures. Our gift shop features prehistoric treasures perfect for the rockhound or aspiring paleontologist in your life.
Shop Online
Shop from the convenience of home by visiting our online store.
Shop In-Person
As we do not have a brick-and-mortar store, you'll want to check out our local show schedule to plan a visit to our pop-up gift shop
Party With Treasure Quest
book a private event
Book a Birthday Parth with us. We offer a DIY birthday party package perfect for the home- or park- based gathering. Learn more about our Backyard Miner's Package.
Having a large event and want us to come to you? Book us for your next neighborhood block party, family reunion, school event, corporate retreat or any other large-scale gathering! Ideal for a large number of Treasure Hunters, our Deluxe Prospector's Package is often booked for full- or half-day events. Contact us to schedule your next Treasure Quest.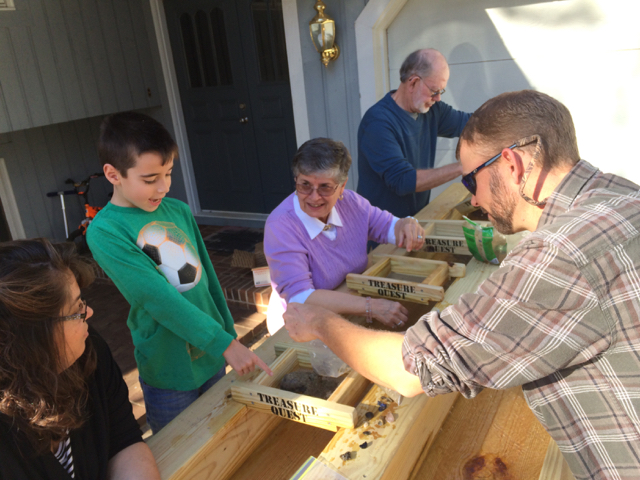 About Us
The story behind the mine
Treasure Quest Mining sprung out of our passion for spending time with our (then) 9-year-old son (he keeps getting older!). We cherish those times spent on family vacations gem-hunting in the North Carolina mountains or searching for shells and sharks teeth at the beach. So much so, that we decided to bring that experience closer to home for kids and their families to enjoy. In 2016, we opened our mobile business, Treasure Quest Mining, based out of Cary, North Carolina.
We are a family-run, mom-and-pop, business in the truest sense. We are all in this together spending our free-time (after work and school) to bag rocks and shells, wash geodes, pack fossils, and prep for our next event. Our son enjoys making the bags of mining rough for our Treasure Hunters. But then again, he has always loved playing with rocks and getting his hands dirty! We've definitely made this a family-affair and even our two dogs, Brooke and Ruby (yep, you guessed it – she was named after the precious gemstone), join in on the adventure.
Our adventure continues to grow and change. Shortly after launching the gem mining aspect of our business, we expanded to include a prehistoric gift shop. While we do not yet have a brick-and-mortar store location, we enjoy touring the area with our pop-up gift shop. And in November 2017, we launched our online store through our sister website: YouWillDigIt.com.
With the hustle and bustle of this technology-driven world, we have found that it is easy to forget to push "pause" and spend time enjoying the simple things in life. Watching a child take pleasure in the simply joys of a treasure hunt or discover a new hobby is a wonderful experience. And this is one of the many reasons why we LOVE this business.
Whether you mine or shop with us, we hope that you enjoy spending time together during your Treasure Quest, discovering and exploring nature's wonders. We look forward to seeing you soon!