The Treasure Hunting Experience
You will dig it!
For their Treasure Quest, Treasure Hunters can sluice for gems & minerals, dig for seashells & fossilized sharks teeth, and crack open geodes to reveal the crystals within. They can select to complete one or all three activities.
The Gem Mining Sluice – Treasure Hunters select a bag of mining rough and sluice for gems and minerals by allowing the running water to wash away the sediment revealing the hidden stones within. You will find stones in a rainbow of colors, including well-known semi-precious stones to unfamiliar and unique gems and minerals. Each Treasure Hunter is provided with a gem and mineral identification card to enjoy at home.
The Beach Dig – Treasure Hunters dig for their bounty in fine white sand, unearthing seashells, fossilized sharks teeth and other beach finds. Discover shells from across the world and fossilized teeth from the Cretaceous period (145-65 million years ago).
The Geode Cracker – Formed by volcanic activity, geodes have a crystalline interior. Treasure Hunters will select and crack open their own geode, revealing the beautiful crystals within. Or they can bring their geode home and split it later. Our geodes are from Morocco and the crystals within are often referred to as "sugar crystals." Each geode is unique in their composition, some will be hollow and others will be completely filled with crystals.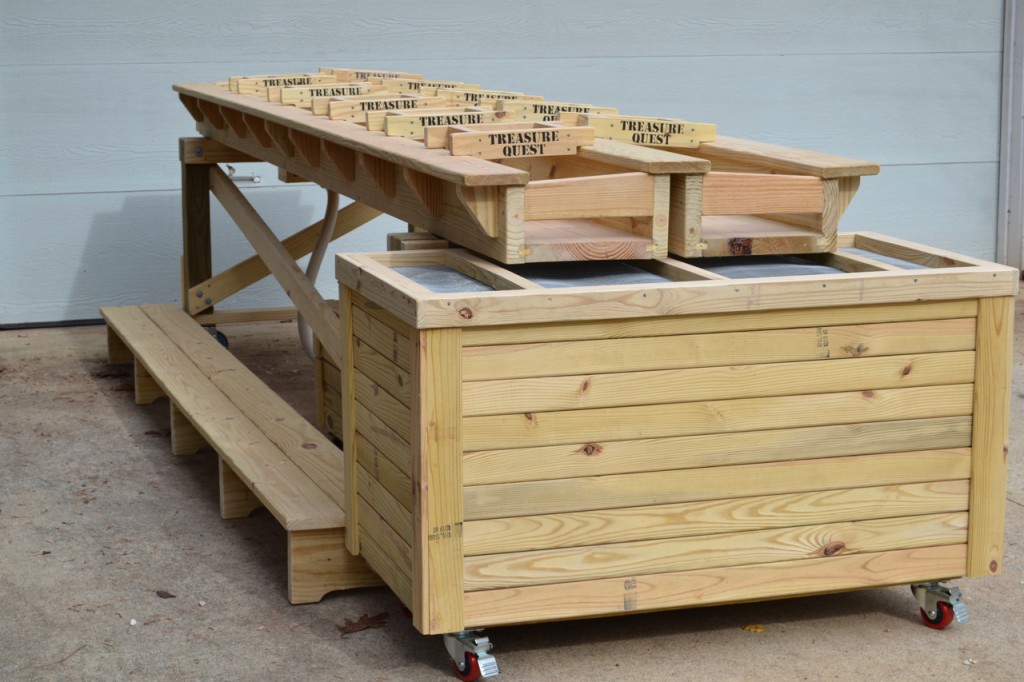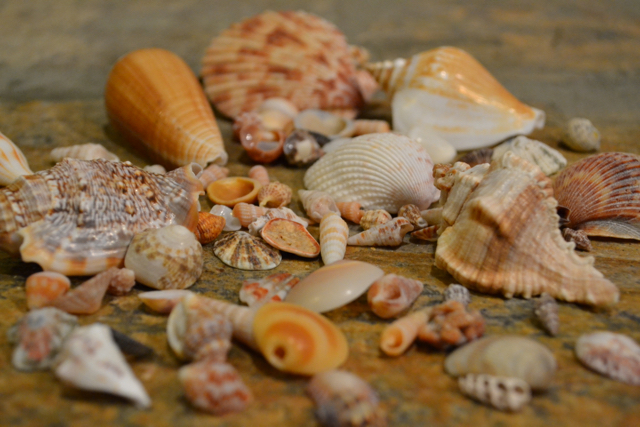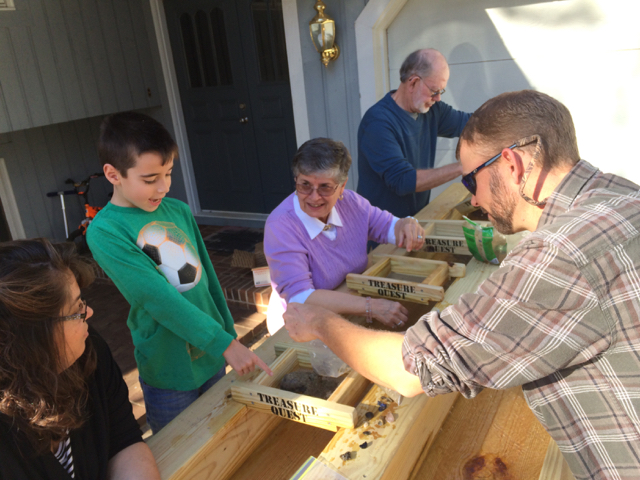 Start your Treasure Quest
Visit us at a festival or book a private event
We invite you to join in on the fun! We are mobile and travel around visiting fairs, festivals and other events in North Carolina and Southern Virginia and may be near you soon. Check out our calendar to view our upcoming events.
Want us to come to you? Book us for your next birthday celebration, neighborhood block party, family reunion, school event or any other gathering! Contact us to schedule your next Treasure Quest.
About Us
The story behind the mine
Treasure Quest Mining springs out of our passion for spending time with our 9-year-old son. We cherish those times spent on family vacations gem-hunting in the North Carolina mountains or searching for shells and sharks teeth at the beach. So much so, that we decided to bring that experience closer to home for kids and their families to enjoy.
We are a family-run, mom-and-pop, business in the truest sense. We are all in this together spending our free-time to bag rocks and shells, wash geodes, and prep for our next event. Our son enjoys selecting and preparing the stones, shells and sharks teeth for our Treasure Hunters. But then again, he has always loved playing with rocks and getting his hands dirty! We've definitely made this a family-affair and even our two dogs, Brooke and Ruby (yep, you guessed it – she was named after the precious gemstone), join in on the adventure.
With the hustle and bustle of this technology-driven world, we have found that it is easy to forget to push "pause" and spend time enjoying the simple things in life. Watching a child take pleasure in the simply joys of a treasure hunt is a wonderful experience. One that we hope helps you to push pause for a few moments and make a new memory together.
We hope that you enjoy spending time together during your Treasure Quest, playing in the dirt and the sand, to discover and explore nature's wonders. We look forward to seeing you soon!